Contact Reverend Bondi Cigars : - Telephone / Fax: (+1) 206-309-7465 - E-mail: rev_bondi_cigars@fastmail.fm
The Church. [Currently undergoing extensive renovation]
You are now entering THE BONDI ZONE.......
The Reverend Bondi Cigars proudly presents a collection of scambaits featuring his friends:
Professor Rupert J. Felcher III [retired arctic explorer & diamond smuggler]

Major Muff Diver [no muff too tuff]

Dr Rudolph Anthrax [philanthropist, a.k.a. "The Doctor of Style"]

Mr Mojo Ricin [chemical weapons expert; present whereabouts unknown]

"Quis Decipio Ipsos Deceptors?"........Professor Rupert J. Felcher III in: The Maria Akim Scambait
"Caveat Deceptor"........Professor Rupert J. Felcher Returns in: The Veronica Karim Scambait
"A Touch Too Much".......Reverend Bondi Cigars in: The Mary Kolams Scambait
*** SPECIAL PREVIEW ***
Dr Rudolph Anthrax & Mr Mojo Ricin in: The Sylvia Sabata Scambait
[Please note: this is only a preview, the remainder will be published when Father Bondi gets his shit together and dredges up the remaining hundred or so emails & K7 messages from long-derelict fastmail accounts]
Reverend Bondi Cigars would like to personally apologise for the unfortunate delays which occur from time to time in updating this site. However, please be advised that, as always, his duties as pastor must take precedence. He's also kind of lazy and hasn't quite got the hang of HTML yet. Anyway, on with the show.....
*** COMING SOON *** "The Brian Jones Scambait". Brian Jones a.k.a. "The Brain" finds himself the target of a mass bait featuring many of Father Bondi's scambaiting associates including Dr Rudolph Anthrax & Dr Lester Innagaddadavida
__________________________________________________________
FAKE DOCUMENTS TO FOOL EVEN THE MOST DISCERNING SCAMMER !!!
Through his involvement in scambaiting, Bondi Cigars has accumulated an impressive collection of fake documents. Father Bondi receives thousands of e-mails each week and in response to the many requests for copies of these documents, he is pleased to announce that they are now available for download right here. As usual, click on the thumbnail images for the full-size documents, then right click / save image as:

British Airways Flight Booking Receipt [use 'Verdana' font to chop in your details]
MoneyGram blank receipt
MoneyGram blurred receipt [unreadable]
Western Union blank receipt

Western Union blurred receipt [unreadable]

Fed-Ex International Shipment Waybill

DHL International Shipment Waybill
Ritz-Carlton Hotel Reservation [this one's for Dubai; just edit to your city of choice]
Street Map of Accra, Ghana [for when a little local knowledge makes the difference]
__________________________________________________________
Reverend Bondi Cigars Rocks the Guinea Coast…….
As we all know, in 2006 Father Bondi made his third pilgrimage to the city of Accra in Ghana. Although he carried in with him $40,000 in gold, it could not really be considered smuggling as he was, you might say, on a mission from God. Despite an attempt by a scurrilous posse of 419 scammers to swindle the gold from him, Reverend Cigars was able to successfully distribute it among its intended recipients, the churches, charities & refugee camps of Accra. In between fighting fraudstars and making new friends, Father Bondi captured a series of memorable images of his stay in Accra, and now makes them available here for the viewing pleasure of his many dedicated supporters…….
Reverend Cigars sussing out possible hiding places for the gold

Father Bondi on Accra Beach (Temporarily renamed 'Bondi Beach' by locals as a mark of respect)
Spreading the word, and the gold at Bujubora Refugee Camp in Accra
And on a recent visit to Monte Carlo,
Father Bondi spent many hours in the casino and meeting new friends.
You could say he got lucky on both fronts.....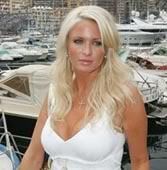 __________________________________________________________
Jumping Jellyfish ! ....... It's Captain Pugwash !

Solid Gold - The Pugwash Theme:
And look what Bondi Cigars found drifting in cyberspace: The Pirate Song
And if you thought that was insane, here's the full version: You Are a Pirate !!!
__________________________________________________________
Live on webcam: Don't miss Father Bondi's interview with ROLF HARRIS !
Latest Update: Well, that certainly went down like a bag of shit, didn't it? We've all seen either the live version or a trancript of the interview. Suffice to say, Rolf Harris won't be getting a second invite to appear on webcam with Reverend Bondi Cigars. Time to move on.......
Extra Special Announcement: Father Bondi's next guest will be none other than Rolling Stone
KEITH RICHARDS !!!
Father Bondi and Keith Richards go way back, and during the Stones legendary North American tour of 1972, the good Father stayed with Keith in his hotel room at the "Riot House" in LA. There are many stories from that time that for the sake of Reverend Cigars' reputation will hopefully never see the light of day. The following video shows Bondi and Keith throwing a TV from the hotel balcony: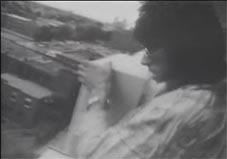 And here's a picture of Bondi with Keith at the infamous 'Redlands', Keith's country estate in West Sussex. The picture was taken back in 1968 when Bondi took time out to introduce Keith to open tunings on the guitar and helped him write the Stones classic 'Jumpin' Jack Flash'.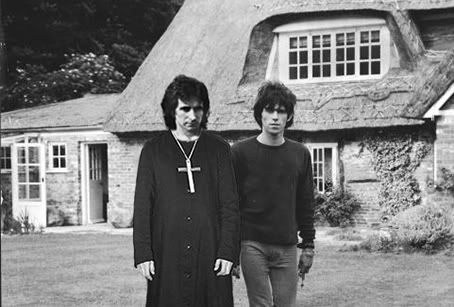 __________________________________________________________
Reverend Bondi Cigars says: LET THERE BE ROCK !!!
Check out some of Father Bondi's favourite bands:
__________________________________________________________
__________________________________________________________